ESM2025 – EARTH SYSTEM MODELS FOR THE FUTURE
We are an ambitious European project on Earth System Modelling that aims to develop the next generation of Earth System Models (ESMs).
By developing a novel generation of ESMs, we take a step forward in providing relevant climate simulations for the design of comprehensive climate change mitigation and adaptation strategies, in line with the Paris Agreement. This next generation of ESMs will include an improved representation of the full Earth-system response to anthropogenic emissions, with a particular focus on human land-use change.
This project is coordinated by Météo France-CNRM and started on the 1st of June 2021. It is funded by the H2020 European Commission programme for 4 years.
Why improve Earth System Models?
Over the past decades, climate science has demonstrated that human activities are responsible for global warming and a range of associated environmental impacts. The current generation of Earth System Models has been a centrepiece of these achievements, providing an important scientific basis for understanding climate change and informing policy action, both for mitigation and adaptation to global change.
However, ESMs still need further development to reach their full potential in order to thoroughly design and assess the options needed to meet the objectives of the Paris Agreement. Our aim is therefore to develop a next generation of European 'mitigation-oriented' ESMs that can meet these objectives.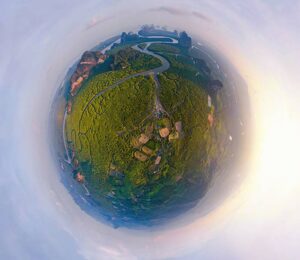 The structure of the project has been designed logically, from fundamental research (component development, process parameterisation, couplings) to interactions with the integrated assessment modeling community, and to outreach and knowledge exchange. Project activities are divided into 4 main work areas (Core Themes – CTs) ranging from scientific activities (CT1, CT2, CT3) to knowledge exchange and outreach (CT4).
ESM2025 relies on an international team of 19 European institutes and an Australian university. The team is composed of Earth system scientists and model developers, experts in machine learning for ESM analysis and data-driven hybrid modelling, model evaluation and feedback analysis, as well as specialists in climate education and science-policy dialogue.